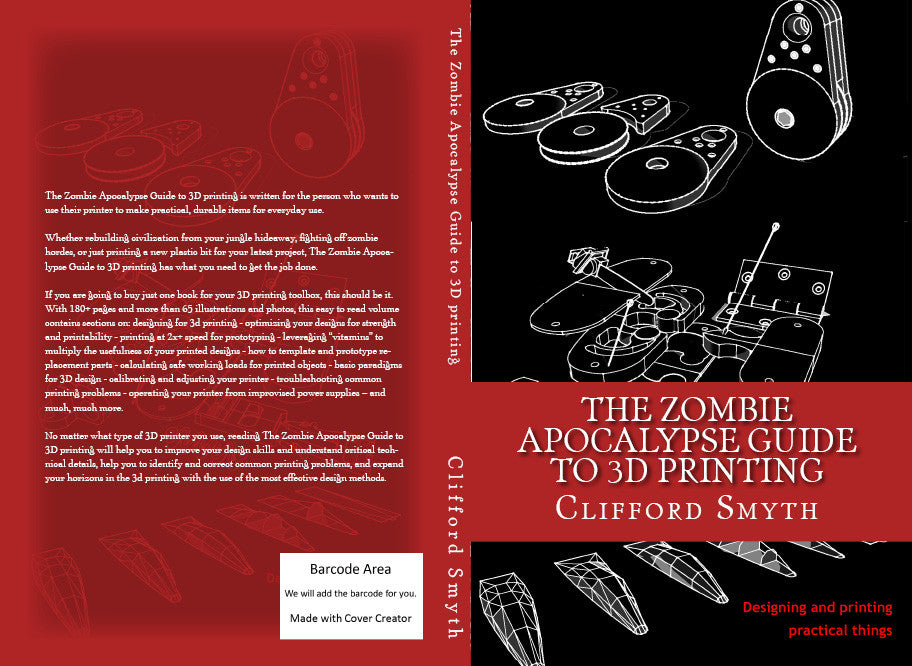 The Zombie Apocalypse Guide to 3D printing - Digital copy (PDF)
$9.99 $21.99
The Zombie Apocalypse Guide to 3D printing is written for the person who wants to use their printer to make practical, durable items for everyday use.
Whether rebuilding civilization from your jungle hideaway, fighting off zombie hordes, or just printing a new plastic bit for your latest project, The Zombie Apocalypse Guide to 3D printing has what you need to get the job done.

If you are going to buy just one book for your 3D printing toolbox, this should be it. With 180+ pages and more than 65 illustrations and photos, this easy to read volume contains sections on:

- designing for 3d printing
- optimizing your designs for strength and printability
- printing at 2x+ speed for prototyping
- leveraging "vitamins" to multiply the usefulness of your printed designs
- how to template and prototype replacement parts
- calculating safe working loads for printed objects
- basic paradigms for 3D design
- calibrating and adjusting your printer
- troubleshooting common printing problems
- operating your printer from improvised power supplies
- and much, much more.

With a tongue in cheek nod to the zombie mythos, this volume will enable you to manufacture things on your desktop that you might otherwise have to purchase, painstakingly craft, or do without. Emphasizing independence and solving practical problems, this book will help the reader to design and manufacture new items as well as making perfect fitting repair and replacement parts.

No matter what type of 3D printer you use, reading The Zombie Apocalypse Guide to 3D printing will help you to improve your design skills and understand critical technical details, help you to identify and correct common printing problems, and expand your horizons in the 3d printing with the use of the most effective design methods.
184 Pages, 67 Illustrations.
There is quite a bit of overlap between this book and my other book 'Functional Design for 3d Printing'.  While 'Functional Design' focuses on design and goes into much more detail in that domain, 'Zombie Apocalypse Guide to 3D Printing' has more information about printer operation, tuning, and prototyping, with an emphasis on making useful objects.